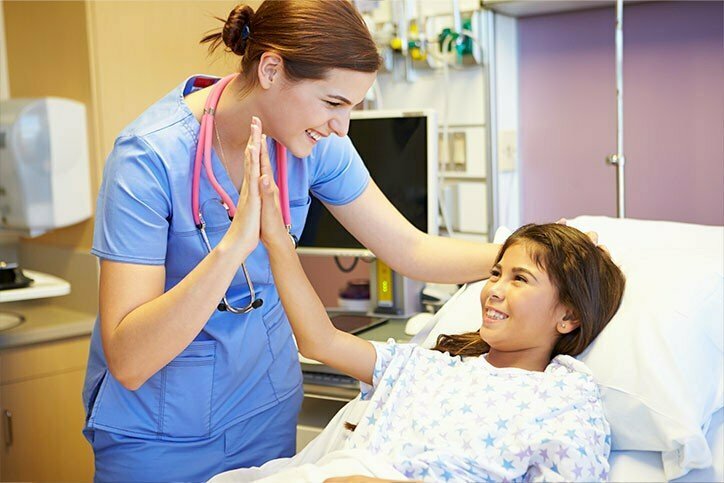 Classes Taught In English and Spanish
About The Patient Care Technician Program
Patient Care Technician School
in Miami, Florida
The Patient Care Technician program prepares students for a variety of job opportunities in the healthcare industry and is designed to meet the need for cross-training of employees in healthcare facilities.
Students are trained for entry-level positions in a variety of medical settings including hospitals, medical centers, nursing homes, home health agencies, and other medical facilities.
Patient Care Technician Classes
You could become a
Patient Care Technician
in less than a year!
A Patient Care Technician's duties consist of direct patient care activities such as bathing patients, helping patients get dressed, position or reposition them on the bed, and transfer patients between beds and wheelchairs.
Patient Care Techs also listen to and record patients' health concerns and report that information to nurses, measure patients' vital signs, such as blood pressure and temperature, and serve meals and assist patients to eat.
Entry-Level position as a
Patient Care Technician
Employment opportunities for Patient Care Technicians:
And other healthcare settings
Patient Care Technician
Courses
This program is designed to prepare students in all the relevant aspects of patient care including personal care, physical comfort, diagnostic testing specifically electrocardiography, phlebotomy, home health care needs, providing post-operative care, geriatric care, and other critical functions.
The program also contains the Nursing Assistant curriculum which will qualify the students to sit for the Certified Nursing Assistant Exam upon completion of the program. Students have the option to obtain certifications in Electrocardiography, Phlebotomy, and Patient Care Technicians. Classes are taught to prepare the students for these certifications. For students completing this program, many facilities that will hire nursing assistants or patient care technicians require a background check.
Upon completion of this program, students will receive a diploma. Graduates may begin working in their field of training as soon as their diploma is received.
PCT-101 - Structure and Functions of the Body I (60 hours)
Introduction to the structure of the body: including cells, tissues, organ systems, musculoskeletal, nervous, endocrine, & digestive systems.
Students learn about diseases that are frequently diagnosed & treated in the medical office setting.
Lecture Hours: 60
Lab Hours: -
External Hours: -
Total Clock Hours: 60
PCT-102 - Structure and Functions of the Body II (60 hours)
This course offers an introduction to the structure of the body including respiratory, urinary, reproductive & immune systems.
Students continue to learn about diseases that are frequently diagnosed & treated in the medical office setting.
Lecture Hours: 60
Lab Hours: -
External Hours: -
Total Clock Hours: 60
PCT-103 - Medical Language (60 hours)
This is an introductory course to the field of medical terminology, including basic word structure & the use of medical & technical dictionaries. Students identify components of medical terms & perform analysis & reconstruction of terms.
Students learn operative, diagnostic, therapeutic, symptomatic & surgical terminology of all body systems.
Lecture Hours: 60
Lab Hours: -
External Hours: -
Total Clock Hours: 60
PCT-104 - Nursing Skills and Techniques (60 hours)
Vitals signs reflect the function of three-body processes essential for life: regulation of body temperature, breathing, and heart function. Vital signs show even minor changes in a person's condition. Accuracy is essential in measuring, recording, and reporting vital signs.
Physical examinations are usually done by doctors. Physical examinations are used to diagnose and treat disease. You may be asked to assist a doctor or RN with a physical examination.
As a patient care assistant, you are responsible for reporting and recording information about patients. Some healthcare institutions also require you to give written reports of your observations. By reporting and recording information honestly and accurately, you will be able to fulfill your legal and ethical responsibilities.
Except in emergencies, the admission process starts in the admitting office. Admission is the official entry of a person into an agency or nursing unit. Admitting staff or a nurse obtains identifying information. This includes the person's full name, age, date of birth, doctor's name, social security number, and religion.  Eliminating wastes is a physical need. The urinary system removes wastes products from the blood and maintains the body's water balance. 
Lecture Hours: 60
Lab Hours: -
External Hours: -
Total Clock Hours: 60
PCT-105 - Nursing Assistant Procedures (60 hours)
This course concentrates on the concept of teamwork, time management, reporting, recording's ethics and laws, end-of-shift report, safety and comfort, communication skills, and dealing with conflicts.
Students will learn Federal and State laws as well as Agency policies to define the rules and functions of each health team member such as right and wrong conduct, legal limits, laws job description, and protecting patients and residents from harm.
Lecture Hours: 30
Lab Hours: 30
External Hours: -
Total Clock Hours: 60
PCT-106 - Home Healthcare Skills (60 hours)
This course introduces the student to the home health services including the HHA's role and the agency structure.
This course teaches patient care skills specific to the Home Health Aide including, but not limited to, personal care procedures, basic nursing skills, procedures for providing care for geriatric patients, guidelines for assistance with self-administered medications, guidelines for special clients with special needs, such as Alzheimer's disease, and home management and nutrition, including safe food preparation.
Lecture Hours: 30
Lab Hours: 30
External Hours: -
Total Clock Hours: 60
PCT-107 - Principles of Phlebotomy (60 hours)
Students learn about current phlebotomy practices, infectious diseases, and their preventions.
The course covers phlebotomy equipment usage, procedures for venipuncture, special collection, and complications.
Lecture Hours: 30
Lab Hours: 30
External Hours: -
Total Clock Hours: 60
PCT-108 - Principles of Electrocardiography (60 hours)
This course details the path of the blood through the heart. The conduction system of the heart & the components of the E.K.G. cycles are studied.
Techniques of electrocardiography standardization & the procedure for recording & mounting a standard 12 lead electrocardiogram are mastered.
Lecture Hours: 30
Lab Hours: 30
External Hours: -
Total Clock Hours: 60
PCT-109 - Nursing Fundamentals (120 hours)
This course will be covering different nursing techniques: Body mechanics, bed making, wound care and, heat and cold applications.
Students will learn body mechanics means by using the body in an efficient and careful way, bed making as an important function to avoid body injuries, wound care to prevent infections or any further injury and state laws related to it, and heat and cold applications to promote healing, comfort, and reduction in tissue swelling.
Legal principles affecting the nursing assistant will be also covered in this course. This course will introduce students to different nursing areas: Surgery, terminal illness, diseases, and basic needs for babies and mothers.
Students will learn the different reasons why surgery is performed; the differences between curable and non-curable illnesses and diseases; and other than physical needs for babies. In this course, the student is required to participate in role-playing and group assignments to reinforce techniques already learned pertaining to patient care. 
Lecture Hours: 60
Lab Hours: 60
External Hours: -
Total Clock Hours: 120
PCT-110 - Rehabilitation and Restorative Care (60 hours)
This course focuses on key terms and abbreviations, how rehabilitation and restorative care involve the whole person, complications to prevent, common reaction to rehabilitation, prosthesis, disability, restorative aides, and restorative nursing care.
Disability is any lost, absent, or impaired physical or mental function. The disabled person may be totally or partially dependent on others for basic needs. The degree of disability affects how much function is possible.
Rehabilitation is the process of restoring the person to his or her highest possible level of physical, psychological, social, and economic functioning.
The Patient care technician uses the nursing process to promote exercise and activity in all persons. Being active is important for physical and mental well-being. The whole person has physical, social, psychological, and spiritual parts. Each part affects the other. A physical problem has social, mental, and spiritual effects. Likewise, mental health problems affect the person physically, socially, and spiritually. Some changes in the brain and nervous system occur normally with aging. Cognitive functioning relates to memory, thinking, reasoning, ability to understand, judgment, and behavior. 
Lecture Hours: 30
Lab Hours: 30
External Hours: -
Total Clock Hours: 60
PCT-111 - Basic Emergency Care (60 hours)
Emergencies can occur anywhere. They happen in healthcare agencies, homes, public places, and highways. Knowing what to do can mean the difference between life and death.
This course describes some common emergencies and the basic care that is given.
Infection is a major safety and health hazard. Some infections are minor and cause short illnesses. Others are serious and can cause death. Infections are serious for infants and older persons. The health team protects patients, residents, visitors, and themselves from infection. They prevent the cause of the infection from spreading.
Numerous diseases can be transmitted by contact with an infected person or a source of contamination. Pathogens of all four major groups of microorganisms may be carried in the blood during the course of a specific disease.
Lecture Hours: 30
Lab Hours: 30
External Hours: -
Total Clock Hours: 60
PCT-112 - Externship (180 hours)
The Patient Care Tech Externship gives the student the opportunity to perform in a nursing home or healthcare facility to become more familiar with the day-to-day situations and procedures that occur.
The student will be given the opportunity to perform as many of the procedures as possible where they will apply the knowledge, skills, and competencies acquired in the classroom.
Lecture Hours: -
Lab Hours: -
External Hours: 180
Total Clock Hours: 180
Total Hours (900 hours)
Lecture Hours: 450
Lab Hours: 270
External Hours: 180
Total Clock Hours: 900